Heritage Rose Garden
Our aim is to achieve a rose garden containing all the principal garden groups of roses in the development of the modern rose, plus a large bed of Australian bred roses, because we feel that these are 'our heritage'.
- Kathie Mills, Regional Coordinator of the Orange Central Tablelands Branch of Heritage Roses in Australia Inc.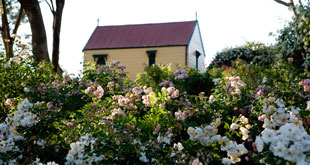 St Paul's Church was moved from Cobar to Shadforth, east of Orange in 1901.
In 1988 the North Orange Rotary Club moved the church to its present site. The church was reconsecrated and is now used for weddings and other ceremonies.
Image courtesy: Craig Fennemore
The Heritage Rose Garden grew from the passion of Joan Neale, Joan Thompson and Audrey Tonkin to propagate old roses collected as cuttings from endangered cemetery roses found in the district. Soon joined by Pippi Cannon and Sheila Higgin they decided, as members of Heritage Roses in Australia Inc., to form the Orange and Central Tablelands Branch. Seven rose varieties collected from local cemeteries were planted at the Orange Botanic Gardens in 1991, close to the little wooden church that was moved from Shadforth.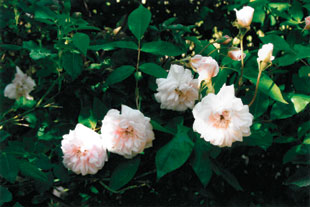 'Jane Hawke's Rose', brought to Australia by Jane Hawke as a young bride from her parents farm in Cornwall in 1838 to her new home 'Pendarves' in the Cornish Settlement at Byng. The original bush survives to this day. A cutting of the rose was given to the Heritage Rose Garden by Trixie Hawke.
Image courtesy: Kathie Mills
Those seven cemetery roses became the nucleus of the current collection of about 60 species roses—the ancestors of all roses, and about 100 varieties of roses. Roses originated in China and spread across North America, the Middle East and Europe. Fossil evidence shows that they existed 35 million years ago. The collection at the Orange Botanic Gardens is significant as the largest collection of species roses in NSW. It is a remarkable achievement for a group of heritage rose enthusiasts working as volunteers.