School Gardens
There is a long history of school gardens in NSW going back to Arbour Day and the 1890s. The impetus for Arbour Day was to engage students in tree planting and preservation, following the environmental devastation of nearly a century of ringbarking.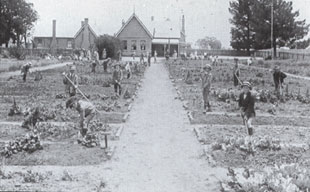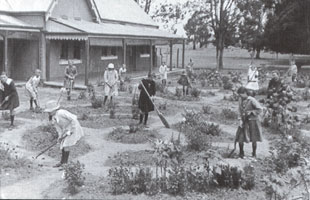 Students working in the garden of Spring Hill Public School, c1915. In keeping with traditional gender roles, the girls tend the flower garden at the front, while the boys work in the vegetable garden at the back. Little survives of this garden today except for a bluestone water culvert, possibly constructed by the council to provide water for the gardens.
Images courtesy: Bev Chapman
Many schools in the Orange district have, or once had, significant gardens and programs to involve students in making gardens. Both campuses of Kinross Walaroi are located on the site of former mansions which had extensive gardens. Remnant trees from the late nineteenth century still survive in the school grounds. The public face of Orange High School was designed and planted with trees in the 1960s. At Calare Public School the principal Mick Harvey worked with his students in the 1970s, planting a native garden in a corner of the school grounds. At Bowen Public School the students and teacher Alex Rezko planted a peace garden in the 1980s. In recent years there has been a renewed interest in school gardens driven by interest in the environment, nutrition and cooking.