Bob Smith
I believe I got my love of gardening from my mother, Marie Smith. She was knowledgeable about most plants. Quite a lot of botanists and influential people used to come to her for advice. She loved alpines and loved growing things that were hard to grow. She actually grew Sturt's desert pea in her backyard in Orange. She also grew vegetables among the flowers-he had cauliflowers and cabbages amongst the roses. At various times she was president of the Australian Daffodil Society and the Orange Horticultural Society.
Bob Smith grows about 120 types of dahlias and is president of the Central West Dahlia Society.
I love the vibrancy, form and beauty of dahlias. This year I won the supreme champion flower in Bathurst with my Scarborough 2000.
Image courtesy: Central Western Daily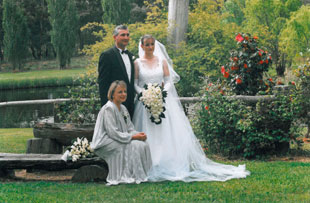 Gardens make the perfect setting for a wedding. Bob and Liz Smith in the garden for daughter Katrina's wedding.
Image courtesy: Bob Smith
Bob Smith and his wife Liz have been gardening at Clifton Grove for 35 years. The garden was a practical robust space for the first 20 years, when the children were young and there was little water. After Bob retired and a dam and bore was installed, the garden flourished and gradually extended to 10 acres.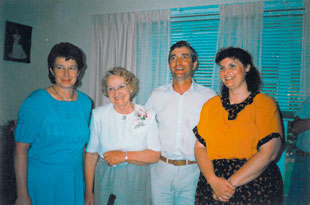 A keen gardening family, Marie Smith's three children keep up the family tradition. Left to right Yvonne Tracey, Marie Smith, Bob Smith and Judith Carrol.
Image courtesy: Bob Smith
The garden has evolved to accommodate Bob's horticultural enthusiasms, as well as whimsical art works and an equatorial clock on a rock. There is a glasshouse and greenhouse, a vegetable garden, a rose walk and a dam that is so well crafted it looks like a natural pond. In the shade houses there are dahlias, orchids, begonias, ferns and succulents. Many of the plants are treasured as gifts from friends or inherited from Bob's mother Marie Smith, a noted gardener who was well known in garden clubs in Orange.