George Hawke
The first known nursery in the Orange area was established by George Hawke of Pendarvis, Byng. Cultivating and acclimatising English and American trees in the 1830s, supplying the early settlement homesteads and gardens. Hawke's success with fruit trees was soon followed by enterprises of would-be orchardists in the Canobolas area.
Before I went to England I was convinced from observation that a fruit garden and orchard would make a good return in the Western District where I resided, as it was comparatively newly occupied by settlers, and as but a few attended to that kind of production very extensively.
As I always had a taste for horticulture I made up my mind to bring with me from England a good assortment of trees and plants, so while there I brought more than two thousand... had them packed in large cases with straw and had them shipped for this colony.
The ship 'Florentia' leaving Plymouth on 4th April and arriving Sydney on 4th August, 1838.
They arrived in the Colony in the time of an unprecedented drought... When taken off the ship they were put on carts drawn by oxen, which at best are very slow in travelling long journeys. But at the time they had scarcely any food on the road which caused the oxen to knock up, by which they were so detained on the road that it was six weeks after they left Sydney before they arrived at Pendarves. By this time it was very late in the season for planting, and as they had been so long out of the ground nearly all of them were quite dead. I planted and watered all that had apparently any sap in them, but every one died. This was a heavy loss to me.
After about three years I brought about twenty apple trees, cherry and plum suckers for which I paid a pound, and I planted peach stones into which I grafted good sorts of fruit.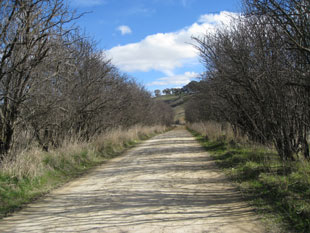 The road to 'Bookanon' hedged with hawthorn. When I returned to the Colony I brought with me a cask full of haws in order to introduce the hawthorn fence extensively, but they, like the trees, all died, but I imported some plants from Tasmania which grew luxuriantly; made a strong fence, and produced haws from which I have grown tens of thousands of plants. I have now some miles of fences of them on Pendarves, and have sold many thousand plants at 10 pounds per 1000.
Image courtesy: Elisabeth Edwards
The drive into 'Pendarves' at the turn of the last century. I have planted an avenue of trees consisting of the English Oak, Ash, Elms of different kinds, Lime, Olive, Beech...
Image courtesy: William Hawke