Bruce Smith, Arborist
What I like about working in this area is the range of trees and the number of clients who really love their trees and gardens.
I prefer the term arborist to tree surgeon, however, tree surgeon strikes a chord with people; they can picture what you do. Arborist tends to be a sum part of the tree surgeon's work. I learnt tree identification, growth habits, skills of tree pruning, tree removal, tree access, planting, and general tree care. Among the typical problems we deal with, the first is incorrect planting and species selection. Species selection is so important for the long-term well-being of trees. Storm damage, dead wooding, crown raising and thinning are typical tasks. Pruning and dead wooding a mature tree in detail can be immensely rewarding.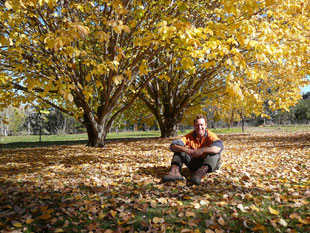 Bruce grew up at Nashdale, surrounded by orchards. He did his degree at Hawkesbury Agricultural College. After some years in production horticulture he then found his way to the tree crew for Orange City Council.
Image courtesy: Elisabeth Edwards
We've had to remove a lot of trees because of drought. Some of the real survivors are Desert Ash (Fraxinus oxycarpa) and English Oak (Quercus robur). Desert Ash (Fraxinus oxycarpa) comes from a very tough environment—the Balkans—and the English Oak (Quercus robur) is quite simply an adaptable tree. There is a huge range of trees that will survive in Orange.
My favourite tree is the Tulip Tree, (Liriodendron tulipifera), for its perfect form. It is a very satisfying tree to work with, has a most unusual flower and leaf and good autumn colour. Of the natives, (Eucalyptus fastigata) Brown Barrel is my favourite, quite simply for its shape.