Mick Harvey, Lecturer and Writer
Natives mean the same to me as what my country does: I shouldn't be looking at my ancestors for my plants, but to my country, because that's where my future lies.
My interest in Australian native plants goes a long way back to when I was small. I didn't know any of their names then, but I felt comfortable with them. When I was principal of Calare Public School we developed a corner of the school grounds into a native garden. I was keen for the kids to learn about native plants and animals. The idea was to put in an area that would attract lizards. The children planted and developed all the trees in the open spaces around the school. They wrote about how they did it and how they felt about it. They had a similar feeling to what I had: being amongst the natives made them feel comfortable.
In 30 years of teaching and writing, Mick Harvey has influenced many gardeners and gardens in the Orange district. He is passionate about trees and about growing natives endemic to this region.
Image courtesy: Elisabeth Edwards
I started a class at TAFE about five years ago called 'Know and Grow'. Many people who did that course now have beautiful native gardens. My 'Know and Grow' TAFE class developed a book called Australian Native Plants to grow in and around Orange.
Mount Canobolas in November is one of the most beautiful places for local natives you can ever see. Mullion is another favourite place. Some of the smaller native plants you see there, such as orchids and dampieras, are just as gorgeous as any exotic plant.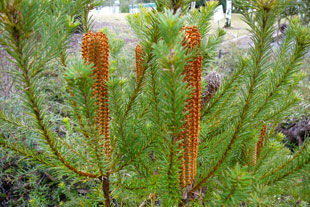 Image courtesy: Elisabeth Edwards