Sarah Hoskin, Landscape Architect
Like a challenging jigsaw puzzle, the landscape and the design of it, come in many pieces. The more sophisticated you want the puzzle to be, the more pieces you need, giving great care to the way these pieces are put together.
A well-balanced landscape design, incorporating useable, healthy and stimulating living environments, is the result of finely honed techniques combined with that vital intangible ingredient, intuition. Underscoring the process is the important three-way partnership between designer, client and 'place'.
Home for me is the Central West having grown up in both Orange and on the family farm at Stuart Town. Now a landscape architect running 'Caledonian Landscapes' in Orange, I find myself questioning my responses to home and landscape. As Orange steadily expands it is obvious to me that we must preserve the integrity of what presently exists for our children. Careful planning is needed to retain the beauty of our rural landscape as well as maintain and increase the cultural diversity of our Central Western home.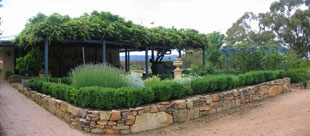 Dry stone wall terrace containing a fragrant garden off an outdoor entertaining area, designed by Sarah in 2002.
Image courtesy: Sarah Hoskin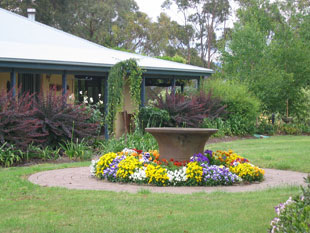 Feature garden with central bell shaped water urn designed by Sarah in 2002.
Image courtesy: Sarah Hoskin
Image courtesy: Sabine Eadie