Jo Sangster, an artist's garden
I could never make anything small, so my sculpture was inevitably outdoor garden pieces.
Jo Sangster majored in sculpture at art school, studied horticulture and is a garden designer with many local gardens in her portfolio. Her own lovely garden reflects these passions. Jo inherited a row of pines, a small orchard and views from Mt.Canobolas to the rolling downs of the south-east. She has exploited her understanding of the lie of land and her eye for colour, texture and form to create, in only twelve years, a dynamically harmonious landscape.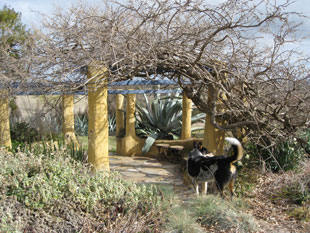 Antonio Gaudi, the Spanish avant-garde modernist architect of the turn of the last century, has been Jo's inspiration for her pergola.
Image courtesy: Elisabeth Edwards
To replace a derelict shed beneath a venerable wisteria, Jo made an imaginatively spacious 'Gaudiesque' pergola from timber and cement render. Decorated with mosaic tiles it is complemented by large grey agaves (Agave americana). Further sculptural plantings, balanced by her own evocative pieces imbue her garden with singular charisma.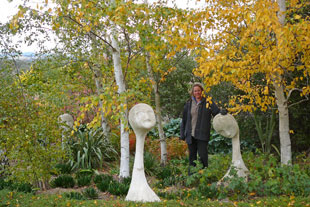 Jo is passionate about birch trees and 'loves being able to mould and shape things with cement render'.
Image courtesy: Elisabeth Edwards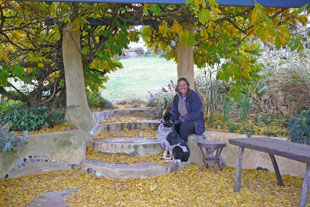 Jo Sangster in her garden.
Image courtesy: Elisabeth Edwards