Climate
The climate in the Orange district is essentially of highland or tableland type with the temperatures ranging from an average of mean temperature of 8° in Winter and an average mean temperature in Summer of 25°. The hottest month is January, while snow is experienced between May and September. Snow does not settle on the ground for long, although it can accumulate in sheltered pockets on Mount Canobolas.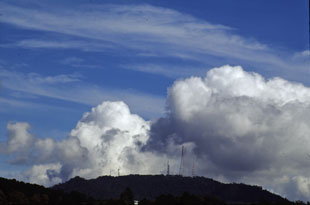 A build up of threatening clouds over Mt Canobolas.
Photo: Bill Simpfendorfer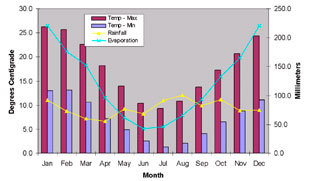 A rain chart.
Orange has a relatively high average annual rainfall with winter being the wettest period and summer and autumn the driest. Blackman's Swamp Creek and its tributary, the East Orange Channel, have been known to break their banks since the earliest days of white settlement. Flooding in the area is of a short duration and relatively minor.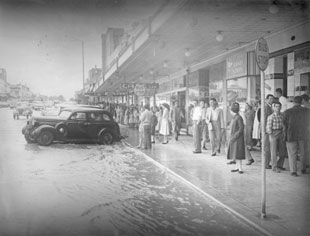 The northern side of Summer Street looking from Lords Place flooded in 1958. Crowds of shoppers would have looked on in awe as floodwaters lapped the gutters.
Photo: Orange City Council