Cottage Gardens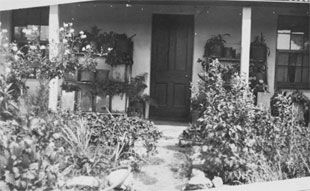 Cottage garden at Hillview Garland in the 1930's.
Image courtesy Golden Memories Museum - Millthorpe
Cottage gardens are a distinct style of garden which uses an informal design, traditional materials, dense plantings, and a mixture of ornamental and edible plants. The Cottage Garden is English in origin and depends on grace and charm rather than grandeur and formal structure. They were connected to working class cottages and provided year round colour.
The earlier cottage gardens were more practical than their modern descendants, with plantings of vegetables and herbs, along with some fruit trees, and possibly livestock. Flowers were used to fill any spaces in between. Over time, flowers became more dominant. The traditional cottage garden was usually enclosed, perhaps with a rose-bowered gateway.
Common flowers included hollyhocks, pansies and delphinium, old-fashioned roses that bloomed once a year with rich scents, simple flowers like daisies, and flowering herbs.
Modern-day cottage gardens embrace new plant materials, such as ornamental grasses or native plants,traditional roses, with their full fragrance and lush foliage