Push Mower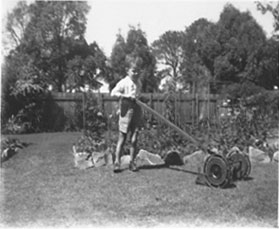 Photo of Neil Jones aged about 3 in the backyard of the
family home in Sydney.
Push lawn mower used by three generations of the Jones family in Sydney and Orange, c1930
Like many Orange gardeners, Neil Jones is reducing the size of his lawn to make his garden more water wise. This push mower is well designed for the small area of lawn it keeps trim.
Loan courtesy Neil Jones