The Verandah
The verandah is the original garden room; an intermediate zone between the public and private spheres, and a place for relaxation and taking tea.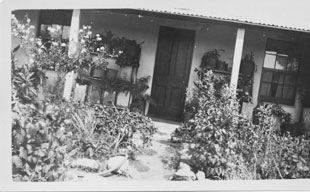 The verandah of 'Hillview' with 'tinned' plants and well-tended garden.
Freda Bevan collection.
Image courtesy: Millthorpe Museum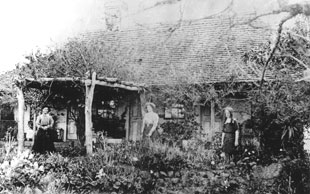 This cottage has a splendid bush pole pergola extending the verandah which shelters many pot plants. Ezzy family collection, c1900.
Image courtesy: Millthorpe Museum
Fronting cottages, bungalows and mansions, the verandah was used to nurture more tender and frost sensitive plants such as ferns, geraniums and orchids. From the verandah they could be readily moved indoors and hand watered.
Mrs E. T. Webb watering geraniums on the verandah of 'Littlebourne' in Bathurst, 1912. The terracotta pots sit in a handsome wirework stand. A split bamboo blind offers protection from the afternoon sun.
Image courtesy: Hawke family archive
Plant stands for the verandah came in many shapes and sizes from delicate wire-work to simple wooden racks. Containers might be recycled kerosene tins, boxes and barrels, while terracotta pots and urns graced the verandahs of grander homes.