Water and Garden Life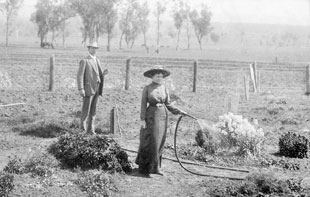 Archie McIvor watches Sissy watering her stocks and pansies, Molong district c1910. The water may be gravity fed from an elevated tank. Pliable rubber for hoses were introduced in 1898, they were a big improvement on the earlier canvas models. Wire netting fences protected rural gardens from rabbits as well as stock.
Image courtesy: State Library of NSW
Water is a major preoccupation for Orange gardeners with drought, climate change and water restrictions. It is changing the design and plant selection in Orange gardens reliant on town water.
Before water was on tap, gardeners located their more demanding plants near water sources such as rain water tanks, or close to the house. At the edges of the garden were the robust, water wise plants that are now back in fashion.
The introduction of reticulated water enabled the spread of lawns, which in turn prompted iconic inventions like the motor mower. Sprinklers did double duty in summer as a way for children to cool off.