Bloomfield Hospital
The last of three NSW rural mental hospitals, emulating enlightened turn of the century mental health philosophies and treatment regimes of the great European institutions, Bloomfield Hospital was built in the 1920s.
Bloomfield has functioned in a focused village atmosphere for over eighty years with its Arts and Crafts, Federation and Interwar architectural style hospital buildings set among exotic trees, remnant eucalypts, flowerbeds and shrubberies.
Dr Eric Hilliard, Bloomfield's first Medical Superintendent, used comprehensive tree lists including varieties of oaks, elms, poplars, conifers and palms from Kew Gardens in London and the Melbourne and Sydney Botanic Gardens, to furnish the grounds. Most were delivered by rail to the Bloomfield siding and were planted by teams of inmates, originally housed in tents. Also planted were three Pinus halepensis trees, descendents of the Lone Pine at Gallipoli.
Image courtesy: Bloomfield Hospital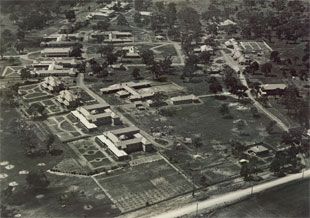 A 1930s aerial view of Bloomfield Hospital's early layout; with large eucalypts, fresh exotic plantings, garden outlines and an orchard in the foreground all clearly visible.
Roads serviced the rear of the wards while their front elevation looked across formal gardens toward the beauty and tranquillity of lightly wooded grassland. Healthy competition between the ward gardens was encouraged with bags of bulbs ordered each year for the spring 'show'.
Image courtesy: Bloomfield Hospital
Not only were the inmates to interact with the local community socially and culturally but also through sports on their own golf course and cricket pitch. Working in the grounds known as 'The Commons' and in the productive orchards, vineyard and vegetable gardens, they were to be nurtured through therapeutic and fruitful outdoor activity in a beautiful environment..