Gardens and Memory
Gardens are places of memory and commemoration. The people of Orange mark national anniversaries, events and tragedies by creating parks and gardens and planting trees. The impact and tragedy of war is reflected in many Orange parks and remnant memorial avenues. In Newman Park returned soldiers and pupils from East Orange Public School planted an avenue of 16 oak trees in memory of fallen soldiers from the school.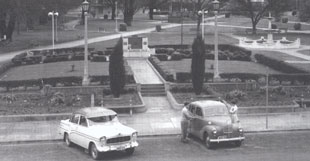 The Cenotaph in Robertson Park dedicated in 1952. The cypress trees at the entry are ancient symbols of death dating to Roman times.
Image courtesy: Orange City Library
Many plants and trees are symbols of remembrance and commemoration. Rosemary, poppies and the lone pine from Gallipoli (Pinus brutia or Pinus pinea) are particularly associated with war memorials in parks and reserves.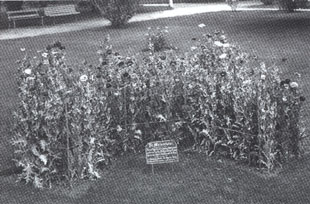 A bed of poppies in Robertson Park at the foot of the Boer War Memorial in memory of fallen soldiers. The poppies were grown from seeds gathered from French battlefields where the Flanders poppy (Papaver rhoeas) has long been associated with Remembrance Day on 11 November, marking the end of World War 1.
Image courtesy: Orange City Library
In Memory Park on Bathurst Road Lombardy poplars (Populus nigra var Italica) are planted for former mayors, while an oak tree (Quercus robur) marks the jubilee of King George V. This park was established in the 1920s by the visionary town planner Norman Weekes who proposed a pair of parks on both sides of the road as the gateway to Orange. Sadly the scheme was never realised.
Orange Central Cemetery, established in 1853, is a garden for the dead and the bereaved. In cemeteries many plants and trees symbolise aspects of grief, loss, innocence and remembrance, including cypress, willows, pines, oak, laurel, ivy, roses and lilies. These are planted in cemeteries and represented on headstones and memorials.
Image courtesy: Orange City Library
Private gardens are also rich in memories. Loved ones past and present, friends and fellow gardeners are remembered through the gift or inheritance of cuttings and plants, pots and works of art. Every day in the garden may bring past and present friends to mind.