Mt Canobolas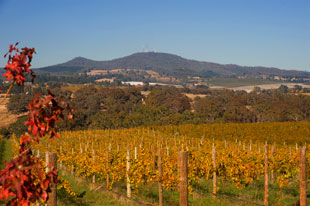 The name Canobolas is derived from the Wiradjuri word meaning 'two shoulders'. The area is significant for local Wiradjuri people and is rich in ceremonial sites, scarred trees and tools.
Image courtesy: Alf Manciagli.
How do the gardens of Orange grow? And what gives the gardens of Orange their character? Soil, geography, elevation, climate and microclimates, water and the lack of water, taste, culture, fashion and family history, all shape the character of local gardens.
Looming above the gardens of Orange is Mt Canobolas, 1395 metres above sea level and 500 metres above the surrounding land. The mountain dominates the views and the identity of Orange. Mists, snow and cloud formations swirling around the summit dramatise the weather. The height of the mountain produces a strong rainfall effect with water flowing in all directions from the summit.
Mt Canobolas is an extinct volcano. The rich soils of the district are the legacy of volcanic activity around 13 to 11 million years ago. Remnants of these eruptions are evidenced in the soils, topography and land forms which underpin local gardens and the views and vistas of the district..