Orange Botanic Gardens
Nearly a hundred years after Cook Park was established, the Orange community got behind the idea of creating a botanic garden on the site of Clover Hill, formerly a 16 acre hobby farm. Situated on the north side of Orange, the site was then some way out of town. The Friends of the Orange Botanic Gardens was formed in 1985 to promote the development of the gardens, while the bicentenary in 1988 gave the project significant funding and government and Council support.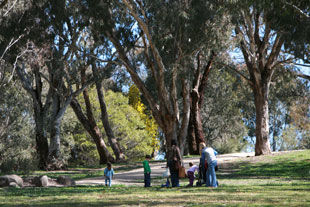 The stand of mature Yellow Box (Eucalyptus melliodora) is part of the original woodland vegetation on the site. Visually the trees suggest a shady country road, leading visitors to the dam and heritage rose garden.
Image courtesy: Craig Fennemore
The collection of heritage apples at the Orange Botanic Gardens is popular with visitors and birds. The collection includes many varieties that are no longer grown commercially.
Image courtesy: Alf Manciagli
The plan for the gardens was developed by Ryde School of Horticulture, guided by Rowan Hayes, with the involvement of students and staff from Orange TAFE. The design and plantings reflect important aspects of the natural and cultural history of Orange. This includes its Aboriginal and European heritage, orchards, heritage roses and the cold climate plants that thrive in local gardens.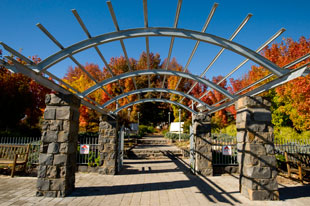 The entry to the gardens is alight with colour in autumn. The pathway leads visitors through to the winter garden, showcasing a diverse range of cold climate plants that thrive in Orange.
Image courtesy: Alf Manciagli
Orange City Council manages the gardens but the place reflects the vision and hard work of many individuals and community organisations. The Orange Botanic Gardens are a destination for visitors and garden lovers, a haven for birds and bird watchers, and a favourite place for concerts, picnics and community events. Importantly, the gardens are also an education centre growing rare and endangered plants and shaping the garden future of Orange.