Janet Dunlop, Orange Botanical Gardens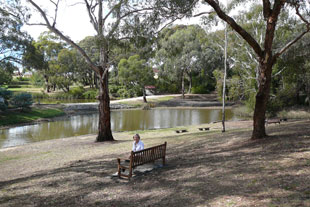 Image courtesy: Elisabeth Edwards
My greatest pleasure is that Orange has a Botanic Garden. It is a park created by many people, mostly from Orange, giving their time and knowledge to its establishment and growth.
I started the Friends of the Gardens in 1985 to raise money to buy plants and for various other projects. It was also to have a core of local people spreading the word that we had a new park to the city's north and well out of town and that its intention was to help preserve our local indigenous plants as well as to show new gardeners what would grow in our climate.
The original stand of Yellow Box (Eucalyptus melliodora) now down the centre of the garden, was to be the backbone. To the north of this, exotic planting, to the south, indigenous plants.
Volunteers from the Friends worked the first Sunday of each month, planting, watering, mulching and weeding. Another group, the Wednesday Weeding Women, joined the volunteer labour force after a series of horticultural lectures, making the garden to the west of the present building. They called it the Winter Garden for the obvious reason: to show what would brighten the Orange winter months.
From the memory of an open paddock to the now established woodland, gardens and pathways, I have great pleasure walking amongst plants I have known from their infancy and to see an accredited well labelled Botanic Garden evolving slowly, against considerable odds of drought and financial shortage.
I think we have a great garden for the future.