Robertson park
Robertson Park is a green oasis in the city, notable for its majestic trees and war memorials. The land area was originally a water reserve, crossed by Blackman's Swamp Creek. In the 1880s and 1890s it was gradually developed as a park, and planted with exotic trees which create a blaze of colour in autumn.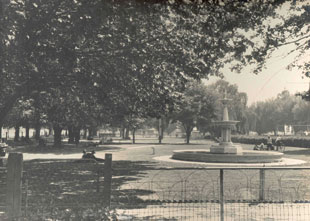 View of the park about 1919 showing the Whitney fountain and avenue of elms (Ulmus procera). The marble fountain was the gift of Cobb and Co in 1896, in honour of William Franklin Whitney, one of the partners in the firm. It is said to have been paid for by docking the wages of the employees.
Image courtesy: McDonald Album, Orange City Library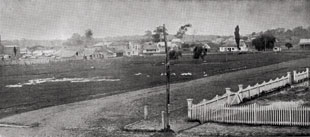 The site of Robertson Park c1872, looking towards Summer Street, with the fence of the Court House in the foreground. Puddles of water and geese show why the land was originally set aside as a water reserve.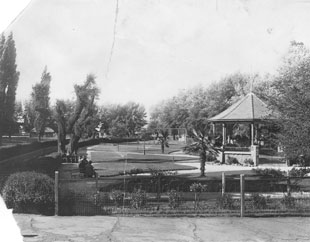 View of the park from Summer Street showing the 1913 bandstand and Blackman's Swamp Creek running across the park in a channel bound by a privet hedge. By 1937 the channel was covered, and the bandstand repositioned to the centre of the park. On the left is the CWA building which was originally the pavilion of the Orange Bowling Club.
Image courtesy: Orange City Library
The park was formally named after Sir John Robertson in 1882. As Premier he reformed the system of land tenure in 1861, making the free selection of Crown Land possible for anyone, except the original owners of the land. Over time the park has become an important place for war memorials and remembrance services. The Cenotaph was built in 1952 and since then it has been the focus for Anzac Day ceremonies in Orange.