Audrey Tonkin, 'Rosewood'
Twelve years ago Audrey and Rodney Tonkin subdivided their property in Green Lane and built a new house and garden on the former croquet lawn at the front. The garden started with huge amounts of 'stable bottom' manure. Over time it has evolved as a series of small rooms, living spaces and vistas. Audrey describes it as 'a little country garden in the city'. It is beautiful and practical, with sunny spaces to sit and eat, masses of flowers, roses, and a productive vegetable garden.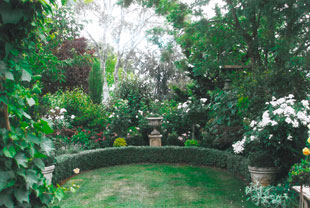 A clipped hedge (Teucrium fruticans) gives formal definition to what Audrey describes as the rambling garden behind it, with the urn as a focal point
Image courtesy: Audrey Tonkin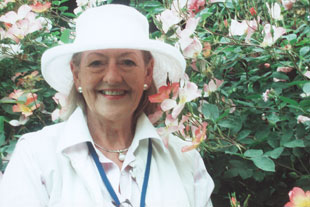 Audrey Tonkin is passionate about heritage roses and is a volunteer at the Heritage Rose Garden in the Orange Botanic Gardens
Image courtesy: Audrey Tonkin
Audrey grew up on the South Island of New Zealand and learnt about gardening by 'parental osmosis'. Both her parents and grandparents had cottage style gardens and always grew fruit and vegetables. Audrey's New Zealand heritage shows in the density and layering of plant forms, colours and textures. It is a look that depends on building a good soil profile through heavy mulching.
Columns, arches, pots and ornaments provide height, interest and structure for a great variety of climbing and flowering plants and shrubs.
Image courtesy: Audrey Tonkin