"St. Brigid's" at Nashdale
Gardening is good for the soul.
The garden at 'St.Brigid's' began just twelve years ago on the site of an uprooted apple orchard. To the west, Mt Canobolas, the source of its enviable volcanic soil and rainfall, provides an eternally serene backdrop.
To give 'St. Brigid's', a transported 1913 wooden church a sense of belonging, Elizabeth Richards asked heritage landscape specialists Michael Lehany and James Broadbent to design an ageless garden.
Now a Bunya Pine at the centre of the turning circle and several palm species symbolise the church's outback north Queensland origin. While the drive running between apparently worn down embankments and a 'remnant' mixed orchard, lend an aura of permanence.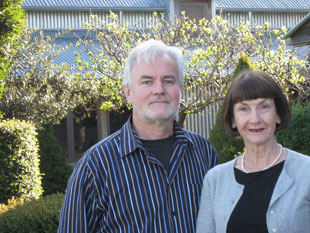 Elizabeth Richards and Michael Lehany - creative team.
Image courtesy: Elizabeth Richards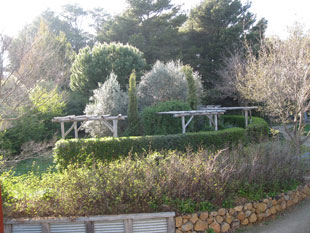 Overlooking 'Tuscany' - A Stone Pine, olives, climbing roses and simple flag irises are hedged with escallonia.
Image courtesy: Elizabeth Richards
The plant selection in 'St.Brigid's' reflect gardener Elizabeth's interests and horticultural experiences. Living 'out west' as a child Elizabeth developed a lasting penchant for garden gnomes, sleepy Mexicans and the odd green frog.
A keen garden visitor and over-the-fence observer she has been as much influenced by the great overseas gardens as idiosyncratic country town plots at home.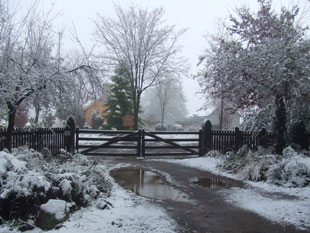 Eastern view of 'St.Brigid's' in mid-winter. After many winters of frost protection the central Bunya Pine is now well adapted to the cold.
Image courtesy: Elizabeth Richards