Mills at 'Badine'
You needn't do a thing with roses and they'll live, but if you look after them and feed them they reward you with healthy plants and more beautiful blooms.
Kathie and Arthur Mills' gently sloping 3.5 acre garden at 'Badine' looks north towards rolling hills, above a tranquil dam. The Mills built 'Badine' in 1981 and planted "a boring and conservative garden". Then Kathie met George Pilgrim, who became her weekly gardener for the next 20 years. Working together they laid out many new garden beds using hoses. Twenty-eight years on, 600 roses are complemented by trees, shrubs and perennials. Kathie describes it as "a rose garden with everything else".
Kathie is passionate about the beauty and sensuality of old roses and is committed to their study, presentation and preservation.
There's no other plant like a repeating rose, which will flower 8-10 months in the garden.
Image courtesy: Craig Fennemore
The volcanic soil at 'Badine' was enriched with rotten lucerne hay from their goat sheds. The soil is mulched by Arthur, recycling all the waste garden material. "This is one of Arthur's many 'non-living' activities in the garden, which allows me to concentrate on the 'living'-that is all the plants."
Attending many conferences both here in Australia and overseas, it has been a privilege to meet many great rosarians. It is from these people, and many books, that I have gained the knowledge that I have..
Image courtesy: Elisabeth Edwards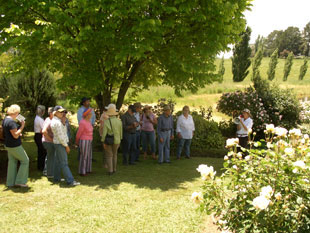 I love to share the garden. Gardeners are wonderful people. Gardening has broadened my horizons... it has opened my eyes to the beauty of the world... I have made new friends, and taken groups on tours overseas.
Image courtesy: Elisabeth Edwards