Barbara Cottee in Byng Street
That's how gardens evolve: by looking at other gardens you can adapt ideas to fit in with your own scheme.
In 1996 Barbara Cottee moved into Byng Street and made her sixth garden. Her inspiring town garden is an example of how best to utilize the 'borrowed' landscape, plant for microclimates and create internal vistas with interesting form and textural combinations.
Barbara Cottee at the entrance to her Byng Street garden.
Image courtesy: Elisabeth Edwards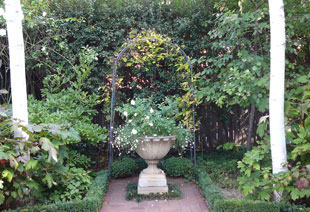 An elegant urn among euphorbias greets visitors to Barbara's garden.
Image courtesy: Alf Manciagli
Barbara's interest in gardening came from her mother whose skill with plants earned her first prize in a Yates Garden Competition in 1940.
A valued member of the Molong Garden Club, Barbara discusses a plant from her garden each month at their meetings. She enjoys visiting members' gardens and takes home ideas and techniques to add to the evolution of her own.
This small figure of a boy with a basket of kittens has been a focal point in Barbara Cottee's gardens ever since she came back to the district from Victoria twenty-four years ago.
Image courtesy: Elisabeth Edwards