Andrew and Deanne McDougall, Strathroy
The wonderful thing about living at Strathroy is that we live in the city of Orange but we don't feel we're living in a city. We feel honoured to be able to live in such a property with such beautiful grounds. We notice it when we've been away and come home - the peace and quiet here. The garden attracts beautiful birds too.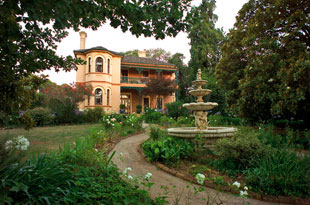 The front elevation of Strathroy which still has its carriage circle with brick edging dating from the original gardens. The fountain was installed by Andrew and is in a similar design and location for the style and date of the house.
Image courtesy: Alf Manciagli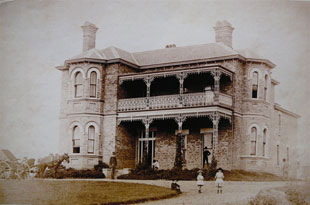 Strathroy in about 1880; the decorative iron work is picked out in different colours. There were probably several gardeners employed to maintain the grounds. On the far right is a man who may be one of the gardeners.
Image courtesy: Deanne and Andrew McDougall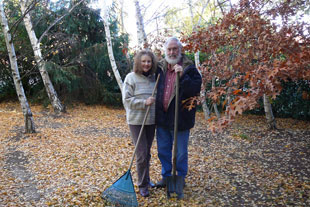 Andrew and Deanne McDougall in the birch grove.
Image courtesy: Elisabeth Edwards
Strathroy in Spring Street, East Orange was built around 1872 for Josiah Parker, a chemist and stationer, and the first mayor of East Orange. The Victorian style brick house has a large garden of around 2.5 acres, reduced through subdivision from its original allotment. It still has its stables and a well.
The garden has a number of significant trees and plants dating from the original gardens, including magnolias, a white cedar, pines and box hedge. It is believed the gardens were laid out by Alfred Patterson, the first gardener at Cook Park. Deanne and Andrew McDougall bought Strathroy in 1997 and are gradually restoring the house and garden.