Pete and Margie Smith, Kite Street
We love our garden for the peace. It's a good way the start the day at dawn and a great place to end it with a quiet drink.
Margie and Pete moved to Kite Street in 1972 and their unusually elongated garden has evolved from a mass of blackberries to the rich plantsman's paradise of today.
Peter's abiding interest is acquiring and breeding in-depth collections of bulbs, perennials and deciduous trees. He avoids confusion by using latin names and his botanical knowledge is prodigious. Margie has an eye for colour and form. No new planting is undertaken without her opinion. She does much of the 'cutting back and pruning'. Many of their ideas have been gleaned from gardens overseas.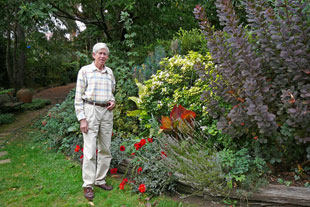 The thing I love about gardening in this climate is the distinct seasons, the absolute joy of seeing something push up from the ground.
Image courtesy: Elisabeth Edwards
The Smith's put all leaves and cuttings through a muncher and age the litter in large composting bins. Returning organic material to the earth and the addition of aged manure is an ongoing routine. The result is a hidden treasure in the heart of Orange – a garden of complexity and satisfaction, a warm and peaceful place.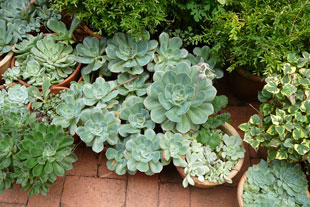 Hardy succulents.
Image courtesy: Elisabeth Edwards
My favourite garden tool is my Spear and Jackson gardening fork. Margie bought it as a present for me. It's just the most balanced instrument. It's the one thing I couldn't do without.
Image courtesy: Elisabeth Edwards