Lost Gardens
Gardens are perhaps the most vulnerable part of the city's heritage. Over the last 100 years Orange has lost many fine gardens and landscapes. Once destroyed, gardens leave few records of their existence or maker. Occasionally a mature tree, a windbreak or an avenue survives from an old garden. In the countryside, a swathe of daffodils sometimes appears in spring to mark the site of a lost garden.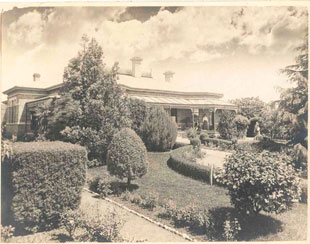 Changing use may cause the loss of a garden. Newstead House, built in 1890 for solicitor George Vial Pilcher, has lost most of its garden since it became Newstead Bowling Club, although the deodar, just to the right in this photo is now a magnificent size. The photo shows the garden in about 1905.
Image courtesy: Joan Crossman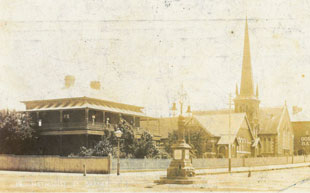 The Methodist manse and garden that once stood on the north west corner of Summer Street.
Image courtesy: Orange City Council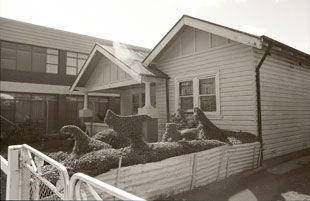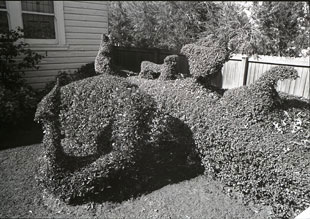 A topiary garden in McNamara Lane created in the late 1940s by one of the Robertson park gardeners. After his death the topiary was maintained by his daughter Mrs O'Neill. The garden was photographed in 1983, at a time when the city had a number of topiary gardens and clipped trees.
Images courtesy: Vivienne Binns
Many factors influence the destruction and loss of gardens:
Rezoning, subdivision, development and road widening;
Changes in ownership and usage;
Senescence in the trees and garden;
Illness and the death of the garden maker;
Financial pressures;
Changing taste and fashions in the house and garden;
Drought and climate change.