The Bannatynes at 'Tannachie'
We wanted to create an English country house and garden in Australia. 'Tannachie' is named after an English country house owned by Piers' aunt. Both our mothers were influential-we learned the basics from them and we have been learning ever since.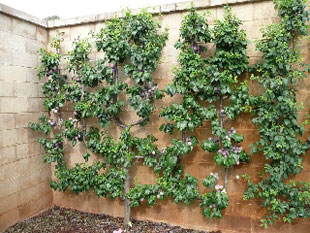 Clipped parterres on the terrace. We love the evening when we take a drink and nibbles to the terrace and watch the light changing and forget about all that is still to be done.
Image courtesy: Elizabeth Richards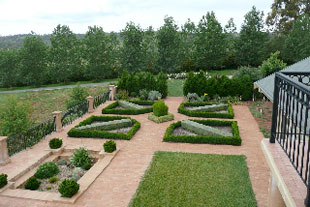 The kitchen garden at 'Tannanchie' has skilfully espaliered fruit trees against the warm brick walls. We wished to make something of beauty that is also useful.
Image courtesy: Elizabeth Richards
Patricia and Piers Bannatyne commenced building their 'English house and garden package' in 1988, on the southern slopes of Mt Canobolas at Spring Terrace.
They commissioned landscape architect Catriona McDonald to design the garden at the same time. The 'entrance front' of their Georgian style house is approached by a traditional gravelled circular drive to a columned portico. The 'garden front' leads onto a balustraded terrace with lawns and parterres. There is a wide perennial border, shrubbery, woodland and walled kitchen garden.
With weekly help they have created a masterpiece of symmetrical beauty. Piers is concerned with infrastructure-walls, water, drainage-and Patricia enjoys the detail, in particular espaliering fruit trees.
Patricia and Piers at the entrance front of 'Tannachie'
Image courtesy: Elisabeth Edwards